Celebrations with the Girls: Luxury Getaways a Hot Trend
If you're thinking about organizing a distant bachelorette party, bridal shower, or just a "girls' getaway," you're part of a growing group of trendy women. A new poll of 246 American Express Travel agents has found that more women are enjoying themselves in groups than ever before.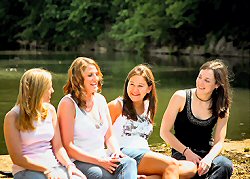 They're also enjoying greater luxury. More than one-third (35%) of agents said women are spending between $2,600 to $5,000 per person when traveling with a group of girlfriends or female relatives. Even bachelorette getaways are going more upscale, said 57% of agents polled.
Spa party pampering, beach relaxation, and shopping still dominate the list of women's favorite group activities.
However, the agents reported, when women travel together, many book cruises, culinary experiences, golf, skiing, scuba diving, and biking excursions.
Not only are they doing more and spending more, but they're also staying longer. The agents reported that girls-only destination celebrations tend to last between four and seven days.
"Many women consider their 'girls getaways' to be the highlight of their year," said Audrey Hendley, vice president of American Express Travel.
The most popular destinations? In order, they are: the Caribbean, Mexico, Europe, Canada, and South America.
You might also enjoy:
More how-to's for great get-togethers