Celebrate friends: Girls' night out
Share Creativity and Laughs
To host your own fun scrapbooking party... Get these useful tools and supplies
and make it easy for you and your friends to enjoy expressing your creativity.
And for easy nibbles, serve chips and crackers and whip up some of our simple 5 minute appetizers. Add cut-up cheese, some mixed nuts, and seedless grapes. Then let the fun begin!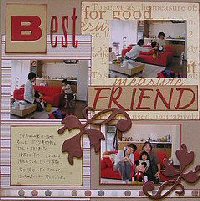 If cooking doesn't appeal to you, perhaps scrapbooking will. Cropping, as the regulars call it, is the name of the game at Creative Resort in Indianapolis. Just like the quilting bees of yesteryear, women love to gather to share their ideas, their supplies, and socialize at the same time, says owner Julie Sturgeon. "People come in groups, they find their own set of tables, and work together."
Many scrapbooking stores around the country hold cropping parties but Creative Resort is different because Instead of selling supplies, it rents its space and equipment. The sitting fee is $10 on weekdays, and $20 on weekends. That covers unlimited use of all her equipment, which includes $20,000 worth of various types of cutting tools and scanners. "We have equipment that will really let your imagination soar," she says. "You don't have to say, 'gee I wish I had that.' It's here."
Women have been known to pull all-nighters at Creative Resorts, and even come in their pajamas, Sturgeon says, which is why her place is open until 3:00 am on Saturday nights. "This is their creative time. I've already had people ask if we can stay open all night."
Note: Beautiful "Best Friend" scrapbooking creation posted by shu_443sb on www.flickr.com.
More how-to's for great get-togethers