Caterers Super Super Bowl Ideas
By Debbe Geiger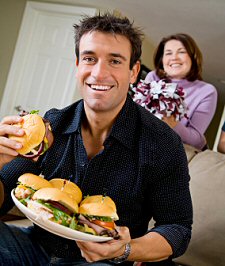 Super Bowl Sunday is said to be second only to Thanksgiving as the biggest at-home entertaining day of the year. Those who throw and attend Super Bowl parties are either: 1) really excited about the game; or 2) know there's a game on, but can't name the teams that are playing.
Whichever camp you're in, if you're hosting this year's football fête, entertain stylishly without cooking for hours or spending game time in the kitchen. Here's how:
A NEW TAKE ON TRADITIONAL FAVORITES
Nibbles at the Playboy mansion: Passed bite-sized morsels always make eating easier when TV-watching or mingling. Scott Winfrey, co-owner of catering firm Marquis Food Service in Westland, Michigan, created high-end nibbles for the Playboy Super Bowl party in Detroit recently. Winfrey's company served Hugh Hefner's guests lobster lollipops, coconut chicken skewers, and sushi on a conveyor belt.
Lobster lollipops probably won't be on most Super Bowl party menus. But caterers like Winfrey agree that the easiest way to elevate game-watching fare is to add a twist on the standards. Cheese truffles and salsa steak sticks are two great bite-sized choices. In addition to lots of ways to up the ante on popcorn with a fabulous popcorn bar, we've got lots of great dips and other appetizers that are sure to wow your guests!
More delicious food for parties