Caterer Reveals Top Do's and Don'ts of Party Planning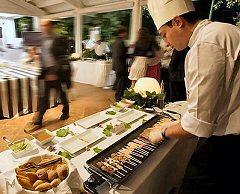 DO GIVE THE CATERER ENOUGH TIME TO DO A GREAT JOB
Clients who expect to be able to book a party at a nice restaurant or have a catered affair in their homes within a couple of days are bound to be disappointed—or totally shocked at the "rush" charges. Having small groups over is great for impromptu entertaining. Large events, however, require special food, preparation, and time. Even if you find a willing caterer, the minimum amount of time you should allow for a large party is one week.
DO LET THE STAFF DO THEIR JOBS
It's wonderful for clients to be actively involved in the initial party planning process; their input is almost always appreciated. Clients who micromanage the caterer, the serving staff, and the bartenders during the event make it difficult for everyone—and wind up not enjoying themselves, either.
The time for communication of your wishes and special requests is prior to the event. On the day of the party, relax and let the professionals take over. If you find yourself succumbing to the urge to oversee every detail, take a deep breath, have a sip of wine, and remind yourself: That's why you hired them in the first place.
Image by Siena & Cocotte Catering, Valencia, Spain
You might also enjoy:

Choosing the Right Photographer: How best to capture your most wonderful occasions
Selecting the right band for your event
Make any time party time: What to serve
Tasty & Trendy: What's now and what's next
More delicious food for parties