Bite-sized comfort foods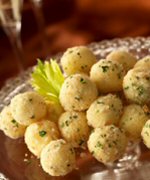 Cheese truffles
Adapted from Tillamook County Creamery Association
Makes 24 pieces
1 cup white extra sharp Cheddar cheese, broken into chunks
2 1/2 Tbs. unsalted Butter
1 1/2 tsp. Brandy or Cognac
1 Tbs. finely minced celery
1 pinch of cayenne
1/4 cup fine dried bread crumbs
Directions:
Heat oil in a small frying pan over medium heat
Add shallots and salt and saute until soft; set aside to cool.
Place cheeses, butter and brandy in bowl of food processor.
Pulse until mixture is smooth.
Transfer mixture to medium bowl and stir in shallots, celery and cayenne.
Chill in refrigerator for 1/2 hour.
In a separate bowl combine bread crumbs and parsley.
Form cheese mixture into teaspoon-sized balls and roll in bread crumb mixture.
Serve at room temperature.
Sweet-and-sour shrimp puffs
Adapted from Pillsbury
Makes 16 pieces
3 Tbs. cream cheese spread (from 8-oz container)
1 tsp. soy sauce
1/4 tsp. ground ginger
1/2 tsp. finely chopped garlic
1 can (8 oz) crescent dinner rolls (8 rolls)
16 uncooked deveined peeled large shrimp (about 1/2 lb), thawed if frozen, tails removed, if desired
3 Tbs. sesame seed
1/3 cup apricot preserves
Directions:
Heat oven to 375°F. Spray cookie sheet with no-stick cooking spray, or line with cooking parchment paper. In small bowl, mix cream cheese, soy sauce, ginger and garlic until well blended; set aside.
Separate dough into 8 triangles. Cut each triangle lengthwise in half to make 16 triangles. Spread about 1/2 teaspoon cream cheese mixture on each triangle.
Pat shrimp dry with paper towels. Place 1 shrimp on shortest side of each triangle; roll up, starting at shortest side, rolling to opposite point.
Place sesame seed in small bowl. Gently press top of each roll into sesame seed; place roll, point side down, on cookie sheet.
Bake 16 to 21 minutes or until golden brown.
In small microwavable bowl, microwave preserves uncovered on High about 20 seconds or until melted. Gently spread 1 teaspoon melted preserves over each puff to glaze. Cool 5 minutes and serve warm.
Mini new potato bites
Adapted from Kraft
Makes 30 pieces (about 15 servings)
1-1/2 lbs. new potatoes (about 15 potatoes)
4 oz. (1/2 of 8-oz. pkg.) regular or chive and onion cream cheese, softened
2 Tbs. sour cream
2 Tbs. grated Parmesan cheese
4 slices bacon, cooked, drained and crumbled
2 Tbs. snipped fresh chives
Directions:
Place potatoes in large saucepan; add enough water to cover. Bring to boil. Reduce heat to medium-low; cook 15 minutes or until potatoes are tender.
Meanwhile, mix cream cheese, sour cream and Parmesan cheese; cover. Refrigerate until ready to use.
Next, drain potatoes and cool slightly. Cut potatoes in half; cut small piece from bottom of each potato half so potato lies flat.
Place on serving platter. Top each potato half with 1 tsp. of the cream cheese mixture. Sprinkle with bacon and chives.
Tip: Make these ahead. These taste great hot or cold.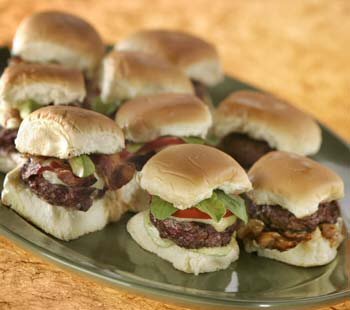 MORE BITE-SIZED PARTY FOODS
You might also enjoy:
More delicious food for parties