Birthstones and birthstone jewelry gifts
Throughout the ages, birthstones have held an almost mystical attraction. Many ancient cultures have believed that specific gems conferred power and protection.
Even today, birthstones are said to represent specific qualities—courage, sincerity, creativity, innocence, constancy, luck, etc.
Great gifts for females of all ages: Birthstones are also simply beautiful. In the form of jewelry—rings, necklaces, bracelets, pendants, and earrings, they make always-welcome gifts. And they can be particularly meaningful first jewelry gifts for young girls or teens.
A gold chain with a birthstone pendant, or small jeweled earrings will thrill a girl who's making her First Communion, celebrating a Bat Mitzvah, or enjoying her Quinciñera or Sweet Sixteen.
On the other hand, a ring or bracelet with the birthstones of each child or grandchild will make any mother or grandmother smile each time she looks at it.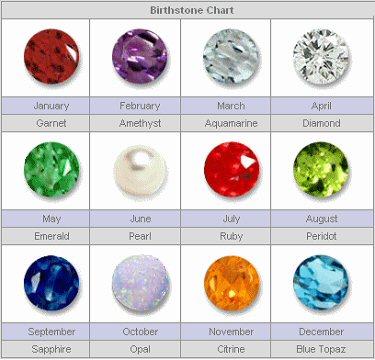 Here's a chart of the modern birthstones for each month:
Month


January
February
March
April
May
June
July
August
September
October
November
December


Birthstone


Garnet
Amethyst
Aquamarine
Diamond
Emerald
Pearl, Moonstone
Ruby
Peridot
Sapphire
Opal, Tourmaline
Citrine, Yellow Topaz
Blue Topaz, Turquoise, Tanzanite

More ideas for special-occasion gifts