Birthday ideas for kids: Martial arts party
Watching those Power Rangers and other cartoon or action movie characters kick and punch their way out of trouble has made karate "cool" in today's kids' eyes. It also explains why martial arts is now a popular birthday party theme.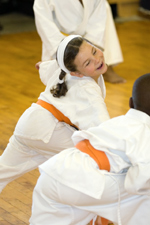 Children enjoy the parties because they get the chance to try out some new moves. Parents like them because their children are being active and can actually learn some important lessons. "When kids take karate lessons, we don't just teach them punching and kicking," explains David Chang, owner of the Wushu Central Martial Arts Academy in Santa Clara, California.
"We also teach them life skills, such as the importance of being respectful to their parents, how to focus in school, and how to resolve conflicts and arguments without letting them escalate to violence. Even during a birthday party, the kids learn a lot. And they have fun while they do it."
Before you investigate different martial arts schools, keep in mind that such parties are usually held on weekdays. Check at least several weeks in advance to be sure that any school you're considering can accommodate you.
A Choice of Party Themes
The typical martial arts party lasts 90 minutes to two hours and introduces children as young as five to basic karate moves and falling techniques. "We start with a basic kick, punch, how to stand, and how to strike a pad," says Chang. "We play a few games like who can kick the pad the fastest. We have tons of games that we can play with the children, depending on their ages."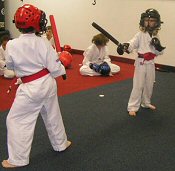 Some schools, like Nevada's Las Vegas Kung Fu Academy, offer a variety of party themes. Kids often like the Ninja party during which guests learn to throw rubber ninja stars, and to jump and roll like a ninja. The party culminates in a game of dodgeball that they call "Poison Ninja Stars."
Another popular martial arts party gives birthday party guests the chance to test their skills while making their way through a variety of fun obstacle courses designed to improve agility.
The so-called padded weapons party teaches a smaller number of guests to handle different weapons, such as nunchuks (foot-long, usually foam-padded sticks connected with nylon cord at the tops), sticks, or swords.
This type of party permits kids to compete in hand-to-hand sparring matches while wearing padded head, hand, and torso protective gear. [Note: Protective gear should be a must for any kids handling weapons or engaging in any type of combat. Also, when sparring, only two kids at a time should be involved, while the others watch and learn. That way, the children get all of the instructor's attention.]
Even if weapons are not used, most schools require guests' parents to sign liability waivers before the children can participate. "Basically, it's saying that parents understand there is always some risk involved in this activity," explains Julius Melegrito, owner of Martial Arts International in Bellevue, Nevada.
To help get all of the required forms sent back in plenty of time, Melegrito sends copies of the liability waiver along with the invitations he provides. That way, the birthday boy or girl's parents can send a form along with each invitation. Melegrito asks the host parents to bring back the signed forms either before or on the day of the party.
Image courtesy of American Dragon Martial Arts.
More ideas on creating kids' and teen parties