Birthday cakes for active birthday kids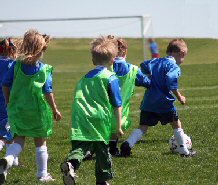 Whether you're selecting a sports theme for your son or daughter's birthday, or simply looking for a birthday cake that represents his or her favorite activity, you've got lots of choices.
The terrific cakes below are among 31 clever birthday cake designs represented in a feature on Parenting.com.
All start with pre-made cakes. If you'd like to bake or buy the undecorated cake, you'll find complete instructions on what to buy and do to turn them into these and the other sure-to-please birthday cakes.
Don't have time? Print out an image and bring it to your local bakery, and ask them to create the cake of your choice.
Here are three of our favorite sports birthday cakes for active boys and girls. Beneath each picture is a link to the decorating directions for that particular cake on the Parenting.com site:

Football cake Soccer ball cake Basketball with hoop cake
Here are the perfect party supplies to accompany football- and soccer-themed birthday parties:
Source for cake photos: Kenneth Chen, photographer; Parenting.com.
You might also enjoy:
More ideas on creating kids' and teen parties