Better burgers for outdoor party grilling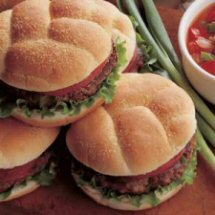 Now that the warm weather is upon us, it is fun thinking about easy ways to entertain family and friends both indoors and out. Want to make it easy, but with a special party touch?
The backyard barbecue is clearly the way to go. Step up the style by building an internationally-inspired menu based around everyone's favorite—the burger.
James P. DeWan, an instructor at the Cooking and Hospitality Institute of Chicago, recently shared some of his fabulous create-a-better-burger ideas with the Chicago Tribune.
We loved DeWan's guide to creating mouthwatering burgers. Here are some of his--and our--favorite better burger tips:
Mexican

: Make a Mexican burger by adding ingredients such as chipotle or other chiles, Monterey Jack cheese, cilantro, and sautéed onions and garlic. For cheeseburgers: See our fabulous "Burger Bar" topping suggestions, or simply serve with delicious guacamole.

Greek

: Try using ground lamb as the basis of a Greek burger. Mix in chopped fresh mint and crumbled feta cheese. Or add minced red onion, roasted red peppers, cooked and drained spinach, and oregano to ground beef. See our fabulous "Burger Bar" topping suggestions, or top with a simple plain yogurt-fresh dill mixture.

Italian

: An Italian burger can begin with a mixture of ground beef and crumbled hot Italian sausage. Add oregano, finely minced or dried basil, sautéed onions, garlic, shallots, celery. For Italian-style cheeseburgers: See our fabulous "Burger Bar" topping suggestions.
Another great idea for adding super-style to ground beef: Mix in crumbled bacon, shredded Cheddar and caramelized onions.
To see all of DeWan's expert how-to advice on turning the ever-popular burger into gourmet food for parties, visit the Chicago Tribune.
Special Video Bonus: Grilled corn on the cob
Whether you choose to serve grilled burgers plain, or with one of the delicious ethnic varieties above, a sure-fire crowd-pleaser accompaniment is grilled corn on the cob. Here's an easy way to grill corn, and have it hot when your juicy burgers are ready to enjoy. Watch this: Grilled Corn On The Cob.
More delicious food for parties