Delicious brunch dishes from top Bed and Breakfasts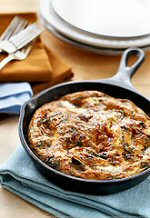 Hosting a brunch is a great idea for Mother's Day or for any holiday--or just because you want to entertain family and friends stylishly, without breaking the bank.
Here are five delicious brunch recipes from Bed and Breakfasts across the country.
Artichoke frittata
Serves 8
Devon Field Country Inn
Lee, Massachusets
24 oz. egg substitute
1 pint low-fat cottage cheese
1 Tbs. Basil pesto
1 tsp. grated parmesan cheese
½ tsp. white pepper
½ cup all-purpose flour
2 tsp. baking powder
½ cup shredded cheddar cheese
14 oz. canned artichoke hearts; drained and sliced into 1/4-inch pieces
2 green onions; finely sliced
1 red bell pepper; thinly sliced
Preheat oven to 350°.
Spray a 9x13-inch glass baking dish w/nonstick cooking spray.
Whisk eggs, cottage cheese, pesto, parmesan, white pepper, flour, and baking powder, blending thoroughly.
Mix in the cheese, artichoke hearts and green onions.
Pour mixture into baking dish and top with the red pepper slices.
Bake for 30-40 minutes until golden brown and firm to touch
Image courtesy of Devon Field Country Inn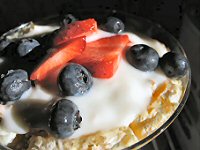 Make ahead Swiss Breakfast Parfait
Serves 10
Lavender Hill Inn
Sonora, CA


2 cups quick or old-fashioned oats, uncooked
4 8-oz. cartons vanilla yogurt
4 Tbs. sliced almonds
2 8-oz. cans crushed pineapple in juice, undrained
4 cups fresh or frozen blueberries (may substitute or also use frozen strawberries)
In medium bowl, combine oats, yogurt, pineapple, and almonds; mix well. Cover, refrigerate overnight or up to one week.
To serve, layer oat mixture and berries in parfait glasses.
Garnish with additional sliced almonds if desired.
Serve chilled.
CLICK HERE for 5 more delicious parfait recipes.

Image by Andy Ciordia on Flickr
More delicious food for parties