Stock the bar: a plan for setting up the best party bar
When determining the liquor budget for a special event, it's helpful to know your options and what you, your company, your co-workers, or your organization actually will be paying for.
Bars and bar caterers generally divide liquor into three categories. First are the so-called "well brands." When guests order generic drinks, such as "Vodka and tonic," or "Rum and Coke," they typically get drinks made with the least expensive "well brands." Typically, these are billed at $5 to $6 per drink.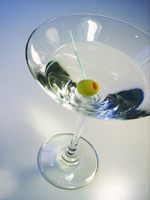 The next rung is known as "call brands," or names people may ask for. In the New York metro area, call brands sell for about $6 to $7 per drink.
The "premium brands" are predictably most expensive, at upwards of $7 to $8 per drink.
At dining meccas on the East and West coasts, a patron may pay as much as $15 to $18 for a martini made with premium (or some call them super-premium) gin or vodka. One article noted that $15 for a martini at some hip L.A. restaurants is simply considered a cover charge for the chance to look at beautiful people.
Knowing what your own "beautiful people" prefer to drink can help you anticipate costs more accurately. Following is a very general guide to the three levels of liquors, drawn from restaurants and caterers in a number of places around the country. Be sure to ask about the brands that will be served at your event.
Liquor
Well
Call
Premium
Vodka
Gordon's
Smirnoff
Absolut, Ketel One,
Grey Goose,
Stolichnaya
Gin
Gordon's
Beefeater
Bombay Sapphire,
Tanqueray
Rum
Ron Rico, Cruzan
Bacardi Silver
Captain Morgan,
Myers
Scotch
Old Smuggler,
J. W. Dant
Dewars White Label,
Johnnie Walker Red
Johnnie Walker Black,
Chivas Regal
Bourbon
Jim Beam 8 Star
Jack Daniels
Makers Mark
Canadian Whiskey
Canadian Club Blend
Canadian Club Reserve
12 year
Crown Royal
Tequila
Juarez
Jose Cuervo Gold,
Sauza Gold
Jose Cuervo 1800,
Sauza Hornitas
You might also enjoy:
More expert advice and party planning tips