A great party music playlist for your event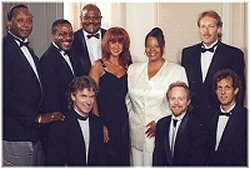 Here's one of those happy discoveries you sometimes make while searching online!
We were looking for some details for a forthcoming article, when we came across the Web site of a Long Island band, Chaser, shown here in a photo taken from the band's Web site.
What caught our eye was Chaser's music playlist. It contains many of the songs that keep all of us out on the dance floors at every wedding and other wonderful occasion.
If you're planning a special event, take a look at Chaser's song list.
You'll undoubtedly find songs that you love, and want to be sure to add to the music playlist for your own party.
Here are just a few of the songs listed in the fun mix of tunes that the band plays (plus the original recording artists):
Crazy in Love (Beyoncé)
Hot Stuff (Donna Summers)
Vogue (Madonna)
Hey Ya (Outkast)
Since U Been Gone (Kelly Clarkson)
Mustang Sally (Wilson Pickett)
Smooth (Santana with Rob Thomas)
I Will Survive (Gloria Gaynor)
We are Family (Sister Sledge)
Wonderful Tonight (Eric Clapton)
You might also enjoy:
More expert advice and party planning tips