Fancy desserts: 4 Fancy strawberry desserts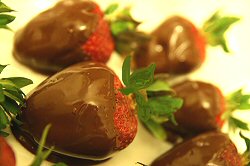 Chocolate-dipped strawberries
1 quart of large, plump strawberries
16 oz. white, dark, or semi-sweet chocolate morsels or solid chocolate chopped into small pieces*
DIRECTIONS:
Wash strawberries, leaving stems attached.
Melt the chocolate in a double boiler over hot water. Stir constantly to prevent scorching. Dip the strawberries at least halfway into the chocolate and place them on wax paper.
Refrigerate the strawberries to allow the chocolate to set (at least 10 minutes). Eat them the same day you make them. (For a super-stylish presentation, arrange the strawberries on a beautiful serving dish, or in a small, shallow gift box lined with tissue paper.)
*Note: If you prefer chocolate that's flavored with rum or fruit liqueur, such as Chambord, add about 1/4 cup of liqueur to melted chocolate just before dipping strawberries.
Photo originally posted by benyeh2 on flickr
Easy Belle Femme (Strawberries in wine)
1 quart fresh strawberries, hulled and washed
6 oz. wine
1 oz. brandy
3 tsp. sugar
DIRECTIONS
Combine the wine, brandy, and sugar. Pour over the strawberries
Chill overnight; serve in wine glasses or martini glasses.
More delicious food for parties